I'll See You In My Dreams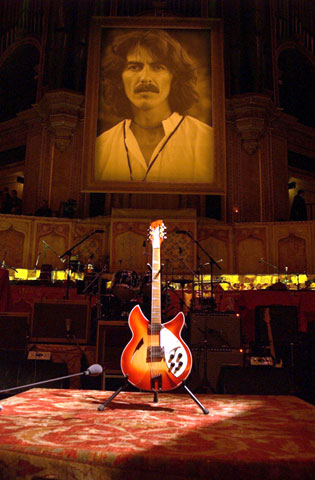 The Royal Albert Hall, as always, proved to be the best venue for what turned out to be one amazing evening spent in the company of friends, family and fans who had gathered to celebrate the life and music of George Harrison. George was no stranger to the RAH, and he used the venue for the Natural Law Party concert in 1992, so it was a fitting venue for a tribute to him.
So…how many Beatles does it take to fill the Albert Hall? On this occasion it seems it took only one. George Harrison. People came from far and wide to celebrate the life of a man who shunned publicity and who never claimed to be a rock star – but rather enjoyed being a gardener instead. His spirit and humility will live on and continue to inspire us all.
Going through the doors of the Albert Hall my nostrils filled with the fragrance of flowers that adorned the floor of the entrance and were simply strewn around, as did the heavy scent of incense. On entering the Hall and stage area I was stopped dead in my tracks by an impressively huge, 20ft picture of George that hung over the stage. Standing alone in the middle of the stage, on a stand with a spotlight shining on it, was George's red Rickenbacker 12 string 360-12 Sunburst (the 1964 model.) The background music playing was from some of George's favourite singers and composers such as Hoagy Carmichael.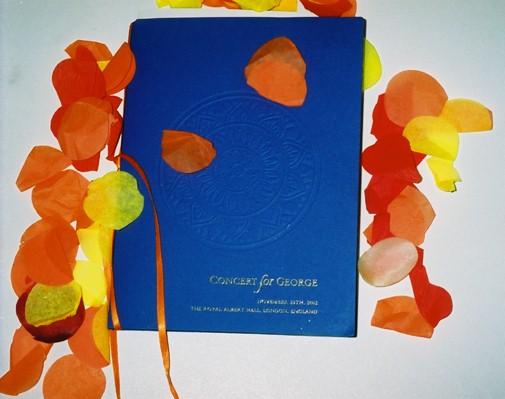 The free programme and some of the petals that fell from the ceiling
Going into the show everyone was given a free programme and was told it was a gift from the Harrison family. It's a beautiful hard backed bound programme and on the front are the words "Concert for George, November 29th 2002, The Royal Albert Hall, London, England" in gold blocked letters. A wonderful keepsake.
Looking around the audience I spotted: John Fuglesang, Elvis Costello, Wix Wickens, Damon Hill, Mick Fleetwood, George Martin, Astrid Kirchherr, Klaus Voormann, Bill Wyman, Lulu, Zak Starkey and Neil Aspinall, but I'm sure there were many others that I didn't spot.
The show began with the stage filling up with an impressive Indian orchestra. Soon Anoushka Shankar appeared, came to centre stage carrying her Sitar and sat down. Her mother Sukanya joined her and sat to the side of the stage. Olivia then appeared and lit the incense and lights on an ornate stand at the front of the stage. Ravi joined Olivia and they both sat to the side of the stage for the whole of the first half of the show that was dominated by eastern music.
Eric Clapton: "Thank you for coming and looking forward to an evening of Beatles music and warm feelings. We are here to celebrate the life and music of George Harrison. We have been rehearsing for three weeks to get the music right but we've not practiced the talking. (everyone laughs) The music this evening has been composed by Ravi and Anoushka Shankar especially for this occasion. Also here with us is Dhani, wife of George, and Olivia (everyone laughed here as Eric described Dhani as George's wife) We are here to show how much we loved him and his music."
Ravi: "Dear friends, I feel George is here tonight. How could he not be here? All of us who love him so much are assembled here to sing for him. I am sure he is here. George was like a son to me and I have my grandson Dhani here tonight with me. The music tonight is composed especially and is called Arpan, this means "to give", an "offering"along with all the music here. Ravi then sat with Olivia to the side of the stage.
This "offering" was stunning to say the least. The Shankar flame has been passed to Anoushka and she showed her true virtuosity by not only playing superbly but also by conducting the large Indian orchestra assembled in the raised area of the stage. It was spiritual, emotional and moving.
Like myself, many there must have discussed who would be first on stage, who would open this concert. I thought it would be Ravi Shankar and although Ravi didn't actually play I was right on the Indian theme.
Jeff Lynne wearing what looked to be one of George's gardening hats, played a wonderful version of "Inner Light" - it was so haunting. When Jeff finished, Dhani got up from his seat, walked across the stage to meet Jeff as he was leaving, put his hand on his (Jeff's) shoulder, rubbed it, comforting Jeff who was obviously feeling the emotion of the evening. I guess being able to chant and meditate from an early age gives you what you see today in this young man - like his father in more ways than can be written about here.
Anoushka continued with the music that had been especially composed and Eric Clapton came on to the stage and sat quietly with his guitar. During this piece Eric extemporised with his guitar and Sukanya sang. At the end of this piece Ravi got to his feet and asked Eric to tell everyone that this had been their "debut". (Meaning it was the first time he and Eric had been on the same stage).
The audience responded enthusiastically to this section of the concert as they got to their feet to show their appreciation.
Next up was Eric Idle, Terry Gillian, Terry Jones and Neil Innes. They came on to the stage dressed as Waiters and sang "Sit On My Face". As they ended the song they turned their backs to the audience to reveal bare bottoms! The whole of the Albert Hall fell about laughing. This was one of the many favourite Python sketches that George loved so much. As they left the stage from one side, Michael Palin came on from the other. He did one of those very phythonesque sketches about why we were here. "We are here to celebrate George Harrison, his greatness was, well, great. He was big, very big" - and on it went in a typical Michael Palin fashion.. Then he said "You know I didn't want to do this, I didn't want to be dressed like this" and proceeded to take of his jacket to reveal other clothes and saying "I wanted to be this"…and broke into "I'm A Lumberjack" – the crowd laughed and sang along. It brought some levity to what was an emotionally charged atmosphere where the crowd was very subdued. A line of Canadian Mounted Police marched on to the stage to join in the singing and before they left they turned their backs to the audience, looked up at the huge picture of George hanging over the stage and saluted. I've since discovered that one of the Mounted Policeman was Tom Hanks!!
More activity on the stage and Jeff Lynne appeared along with Dhani, Albert Lee, Ray Cooper, Gary Brooker, Marc Mann and Eric Clapton and broke into "I Want To Tell You". It was at this point that I noticed how much Dhani not only looks like his father, but plays and stands like him too. "I Want To Tell You" was followed by "Old Brown Shoe", "Give Me Love" and "Beware of Darkness", this track being more poignant because of the line "beware of sadness".
Joe Brown came on stage to much clapping and whistling and played "Here Comes The Sun" as well as "That's The Way It Goes" from Gone Troppo.
Jools Holland, Sam Brown and Jim Capaldi joined Jeff Lynne and Dhani to sing George's last single "Horse To Water" (from the Jools Holland compilation). Sam Brown was in fine voice as she took lead vocals on this song.
Next up was Tom Petty & The Heartbreakers who came on to the stage to rapturous applause. He began with "Taxman," followed by "I Need You". Bringing on Dhani and Jeff Lynne to complete the Travelling Wilburys, they launched into "Handle With Care" and this got the crowd to their feet. This was a fabulous and popular song with Jeff Lynne taking the vocal part of the much missed Roy Oribson. Eric joined them on stage, as did Jim Keltner and Billy Preston who poignantly sang "Isn't It A pity."
Ladies and Gentlemen – Ringo Starr. Ringo ran onto the stage wearing a red velvet jacket with flowers on it. He moved to centre stage and said: "What I want to know is, why is everyone taller than me." The crowd laughed as he continued "I loved George and George loved me. George and I wrote "Photograph" and I'm going to sing that, but now that song has a very different meaning. I'll also do "Honey Don't" because George loved Carl Perkins." He rocked along as Ringo does. At the end of his performance someone threw jelly babies onto the stage which he acknowledged.
Ringo moved to the drums as we heard "Ladies and Gentlemen, Paul McCartney." Paul came on to the stage, went right to Dhani and hugged him tightly. He opened up his tribute to George with" For You Blue." He spoke about how when you went to visit George for dinner how the Ukelele would come out at the end of the evening for a sing song. He then did "Something" and after a few verses he put the Ukelele down and suddenly Eric Clapton picked up the original version we know and love. This change over was dynamic to the point that you could hear gasps in the audience at the sheer brilliance of the change of mood which took us into the version so very well recognised as one of George's most loved songs. Eric and Paul sang with great emotion as they faced each other singing "you're asking me will my love grow, I don't know, I don't know" – they were exchanging glances and their faces showed how difficult it must have been to be standing there singing their friend's songs.
This next bit was a definite highlight of many that evening, especially for me. Paul sang "All Things Must Pass!!!" This was so very moving and Paul's voice was warm, crisp and melodious. The crowd were going crazy at this point and of all the songs I expected Paul to perform that evening, this was not on my list. It was absolutely fabulous. Klaus crept on to the stage unannounced as Paul, after receiving a standing ovation, moved to the piano where he accompanied Eric on "While My Guitar Gently Weeps". Dhani was still on the stage and had been there most of the evening. This fine young man is a credit to George and Olivia. In George's unassuming manner he held his own amongst his peers, concentrating and being his father's presence on stage. Eric's solo here was incredible and he too received a standing ovation. While this was going on Billy Preston had taken his place at the organ for "My Sweet Lord". The man is older but the voice remains the same.
The opening chords of Wah Wah saw Dhani move to the mic where he more or less took over the main vocals for this song. It was ironic that Paul, who was still seated at the piano, played along to this song that George actually wrote about him!! If anyone found themselves falling asleep at this point they had a rude awakening because this song ROCKED…..
As the final bars of Wah Wah drifted away Dhani took centre stage as he gestured (so like George) for the crowd to sit down: "Hi. Hi, I'm Dhani by the way, and George's wife" (the crowd clapped and laughed as the nervous mistake made by Eric at the beginning of the show, and also mentioned by Paul, was now being perpetuated by Dhani. "I want to say thank you from the bottom of my heart to all the musicians here. My dad's dearest friends, I love you all. God bless and have a good night"
Paul walked to the mic and said that Olivia had asked him to say "Seeing Dhani on stage it looked like George stayed young and we all just got older." I agree….he resembles George so much and has the same humble, unassuming manner.
As everyone was cheering and clapping Joe Brown walked on and said "Thank you for coming tonight. I am going to leave you with a song that will give you a warn feeling as you go on your way." He very poignantly sang the Gus Khan song "I'll See You In My Dreams" and as he sang, silk and paper petals streamed down from the ceiling. This was obviously a very emotional moment for Olivia who ran across the stage and hugged Dhani.
If George was there, as Ravi seemed to think he was, then he would have been very impressed with what happened this night and I know that he would have approved. The evening was all about George and nobody else. There was no evidence of a hierarchy of musicians, everyone was there for one reason only and that was to pay homage to a friend, father and husband – everyone was equal that night as they were always equal in George's eyes.
What a fitting end to an evening I will never, ever forget.

Please sign my Guestbook